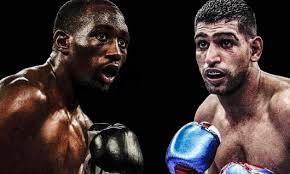 WBO Welterweight Challenge
It has officially been confirmed today that Terence Crawford (34-0, 25 Kos) will be defending his WBO Welterweight Title against Amir Khan (33-4, 20 Kos) Saturday night April 20, 2019 at Madison Square Garden in New York City or at one of the MGM Resorts' International arenas in Las Vegas.
This is an intriguing bout with the possibility of being a great one depending on which Amir Khan shows up that night. If the explosive, fast handed slick fighter makes an appearance, we might just have a good match up. However, if Khan shows up with that weak performance like his last time out then your "Boy" might be in for a quick night? Real Talk!
Khan has been searching for that legacy fight and now his call has been answered. Crawford is rated as one of the top Pound-for-Pound boxers in the game, so you know he'll be looking for that work when he steps into that squared circle with Khan. If Khan were to pull off an upset win here, this would lead to further lucrative bouts amongst the top-heavy hitters in the Welterweight Division.
As for Crawford, a win here won't do much to enhance his status but add another marquee name to his unblemished record. Real Talk! Crawford is seen by many as the favourite while Khan is seen as the underdog.
However, Crawford does need a dominant performance to entice the other Champions in the Welterweight Division. For some odd reason the other Welterweight Champions refuse to acknowledge the fact that Terence is a major player in the 147-pound Division.
Khan strongly believes that he's still top 10 in the Welterweight Division. With an opportunity to win a world title he could easily climb back up top of the 147-pound Division and silence the naysayers who doubt he's still got it.
Nevertheless, Crawford is up for the challenge and about that business inside that squared circle. I just hope that Khan comes with it and doesn't disappoint because this could possibly be his last chance at a World Title.
Now let's see it!
Blaze