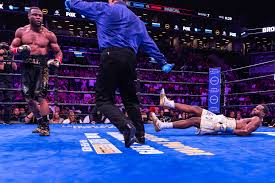 Interim WBA Light Heavyweight Challenge
Last night, on FOX at the Barclays Center in Brooklyn, Jean Pascal (34-6-1, 20 Kos) jumped right back into the Light Heavyweight contention by overcoming previously undefeated and Interim WBA Light Heavyweight Champion Marcus Browne (23-1, 16 Kos) by an eight round technical decision, due to a clash of heads from which Marcus suffered a severe cut over his left eye that then prompted the Dr. and the Referee to stop the bout.
This bout was shaping up to be a very interesting matchup. I would have liked to see it through the entire 12 rounds. Before the clash of heads, this bout was tight from start to finish. Marcus, who seemed to be controlling the bout and throwing more punches, still managed to get dropped by Pascal in the fourth round and then twice in the seventh round. Real Talk!
To me, Pascal was getting out-boxed at times but his heavy shots and clear-cut knock downs were to emphatic to overlook. It seemed to me that Browne's punch resistance was particularly weak on that night and Pascal made sure to take advantage of it and made it count whenever the opening presented itself.
Once the bout went to the scorecards, all three Judges scored their fight identically, 75-74 across the panel for Pascal.
This surprise upset to Browne is a major hit considering Marcus was attempting to make the first defense of the WBA Interim Light Heavyweight Title. Personally, I'm thinking Marcus will ask to run it back one more time with Pascal if he has any plans on staying in contention in the top Light Heavyweight Division.
That being said, congratulations are in order to Pascal. With this win, Pascal is now the New WBA Interim Light Heavyweight and WBC "silver" Light Heavyweight Champion. With these two belts in his possession, Pascal has the option of a rematch with WBA Super Light Heavyweight Champion Dmitry Bivol (16-0, 11 Kos) or a bout with WBC Light Heavyweight Champion Oleksandr Gvozdyk (17-0, 14 Kos). These are two very tough opponents sitting at the top of the Light Heavyweight Division.
The choice is yours Pascal now which avenue will you be taking?
Blaze