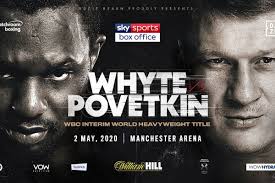 WBC Interim Heavyweight World Title Challenge
Dillian Whyte (27-1, 18 Kos) will be looking to put his WBC Interim Heavyweight Title on the line against tough and seasoned veteran Alexander Povetkin (35-2-1 24 Kos) at Manchester Arena Saturday May 2, 2020, live on Sky Sports Box Office.
This is a very good Heavyweight bout where the experienced veteran Povetkin will have to dig deep to show the naysayers that he's still got what it takes to compete with the likes of a Dillian Whyte. A win here for Povetkin would automatically set him up for the WBC Mandatory position to Tyson Fury's full WBC Heavyweight Championship Title. As a former World Champion, Povetkin is focussed and determined not to let this opportunity pass him by, so I'm anticipating a competitive bout come fight night.
That being said, this bout will be Dillian's first defence of his WBC Interim Heavyweight Belt. Whyte can't afford a slip up here. In order to maintain his Mandatory status, he must keep on winning and challenging the likes of Alexander will not be a walk in the park, but a win here would definitely enhance his resume.
This bout is not your typical stay busy fight for either combatant. This is a dangerous 50/50 fight that could go all wrong for Dillian if he's overlooking Povetkin due to his age. Personally, I wouldn't sleep on Povetkin, he is very well-schooled inside that squared circle and does carry a mean left hook of his own and when timely connected, can end the night quickly.
So, don't miss this exciting Heavyweight bout live on Sky Sports Box Office Saturday May 2, 2020 at Manchester Arena.
Blaze