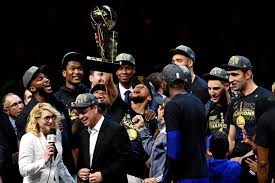 BACK 2 BACK
It was written. The Golden State Warriors, in a blowout road win, completely annihilate The Cleveland Cavaliers by finishing them off in a sweep (4-0) to claim their first Back-To-Back Championship!! With this win Golden State join the Bulls, the Lakers the Celtics as the only NBA franchise to win three or more Championships in a four-year period.
Them Warriors came out with a game plan and executed it to a "T". Real Talk! The "Hampton's 5" and company were focus, ready and loaded to hand the Cavs their last game of the 2018 NBA Finals. I gotta tip my "B" hat to Cleveland, "King James" and his Cavaliers gave it a good run throughout the NBA Playoffs and the Finals but this Warriors squad was just too much for any team to handle. Real Talk!
The Warriors came into the Playoffs vulnerable but finished the series and the Finals strong and confident like the Champions they knew they were. There are levels to this sh*t and The Warriors are living proof of that.
Bron Bron put up some crazy MVP numbers over the four games with an average of 34 points, 10, assists and 8.5 rebounds but the 2018 Finals MVP was awarded to Kevin Durant for his Back-to-Back Bill Russell Trophy with an average of 28,8 points, 10.8 rebounds and 7.5 assists. He was unquestionably the most consistent player for his team this series.
Personal accolades aside, it takes a serious squad to win an NBA Finals Championship and The Golden State Warriors were just that a cohesive squad with exceptional group of players with one common goal in mind. A Dynasty in the making.
Congratulation Golden State on becoming this Year's 2018 NBA Champions!! Once again the Larry O'Bryan Trophy will rest in the West.
Blaze
On The Watch "It's All About 2018 NBA FINALS CHAMPIONS"