2019 NBA CONFENCE FINALS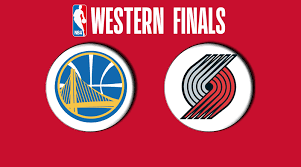 It's about that time: the NBA's version of the Final 4 is set to start tonight in Oakland in the Western Conference, when the Defending Champions, the No. 1 seeded Golden State Warriors will be looking to reach the finals by going ball for ball against the 3rd seeded Portland Trail Blazers. Both teams are coming in wounded but driven to reach the Finals by any means necessary. I'm anticipating a serious shootout between them two teams and for the guard play to be a major factor considering both team's backcourt is their most noticeable strength. The Warriors have been looking vulnerable during this year's Playoff run but are still considered the favourite to come out of the West. That being said, you can't count the Blazers out, them boys have been on a mission to silence all the doubters. The Blazers have been balling out of their minds and their swag is on 100 right now. The Blazers have been battle tested during this Playoff run. Now it's time for them to keep that momentum going long enough to reach the NBA Finals. Tune in this Tuesday night May 14, 2019 and witness the Western Conference shootout under the bright lights!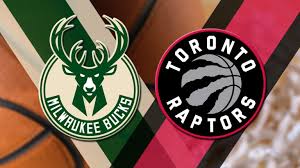 The No. 1 seeded Milwaukee Bucks have been dominating all year and haven't lost a step during their Playoff run to date. Them Boys only lost one game during the first two series of the Playoffs. The Bucks have arrived and are determined to complete their "Cinderella" year by reaching the NBA Finals and seizing that Larry O'Brien NBA Championship trophy. That being said, our very own No. 2 seeded Canadian team The Toronto Raptors, have their own dreams and aspirations of them also reaching the NBA Finals and seizing that Larry O'Brien NBA Championship trophy for themselves. This Eastern Conference Finals will be must watch TV at its best. Real Talk! While Milwaukee cruised their way to the Conference Finals, the Raptors needed a heroic game 7 in their second round to secure their seat at the table. Although both teams match up pretty well, I think the deciding factors will fall on the respective play of Giannis Antetokounmpo and Kawhi Leonard. Them two have been playing on some next level. We've seen Kawhi's clutch play at this level. He's been here before now its for the rest of the team to follow his lead. As for Giannis "The Greek Freak", this is his first time going deep into the Playoffs, but you wouldn't be able to tell the way he's been "Ballin". Giannis has looked unstoppable as of late making this match up that much more intriguing. So, tune in Wednesday night May 15, 2019 and see who will be repping the East come Finals time.
Blaze
On The Watch "It's All About 2019 NBA CONFERENCE FINALS"