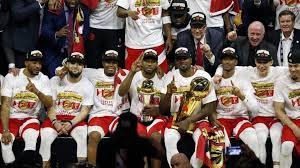 And The New
Our Team from up North, The Toronto Raptors, has been cementing their names in the History books all season long but last night the Raptors officially stamped and branded themselves by dethroning the three-time Defending Champs Golden State Warriors on their own floor to now being crowned this year's 2019 NBA Champion. Unbelievable!
The injury depleted Warriors fought hard all series and up until the last minute but ran out of ammunition to the stronger, more determined squad that had this year's two-time Finals MVP Kawhi Leonard leading the way. Kawhi played out of his mind and with a chip on his shoulder throughout the Playoffs. Kawhi had something to prove and he wanted to be heard and seen doing it. I tip my "B" to the entire team for playing hard all year long, but truth be told Kawhi was the one missing piece that made this amazing year possible. Kawhi is a game changer who dominated all sides of the game averaging 30.9 points, 9.2 rebounds and 4 assists per game for the Playoff run, and when healthy he proved to be one of the top NBA players in the game today. Real Talk!
24 Years in the making while going through the tough times and the good times, the Toronto Raptors franchise has finally achieved the pinnacle point of being crowned this year's 2019 NBA Champions. For the first time in NBA History, the Larry O'Bryan Trophy will rest up North in Canada.
Congratulations to our Canadian team the Toronto Raptors. The Raptors had themselves an amazing season, it's only right that they finished the year crowned "King of the NBA Court 2019". Respect due to the baddest squad, you Boys have now officially tipped the landscape of the NBA.
Blaze
On The Watch "It's All About 2019 NBA FINALS CHAMPIONS"