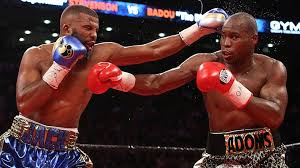 WBC Light Heavyweight Championship
Last night at the Air Canada Centre in Toronto, the lucky fans in attendance witnessed a war between Adonis "Superman" Stevenson (29-1-1, 24 Kos) and Badou Jack "The Ripper" (22-1-3, 13 Kos) inside that squared circle. Real Talk!
Throughout a heavy, action-packed, punishing and entertaining bout, our Canadian Champion Adonis retained his WBC Light Heavyweight Belt with the three Judges scoring it a majority draw.
Listen, I gotta tip my "B" hat to Badou Jack for going 12 hard-hitting rounds with the Champ. Real Talk! Badou is a serious threat to anybody inside that squared circle in the Light Heavyweight Division. It's not just anyone who can walk into that ring and bang with Adonis and although last night was a draw, he gained more fans and respect from this battle. Real Talk!
That being said, I also gotta tip my "B" hat to the Champ for being able to go hard at war with a tough challenger. This Dude is 40-years old and as yet to be dethroned inside that squared circle. He wasn't able to lay down that powerful dirty deadly left punch knockout but he did administer some heavy lethal body shots to slow down "The Ripper", just enough to secure that draw in the Judges' eyes.
Truth be told, both combatants saw themselves as winners last night, hands down. It was definitely a back and forth affair inside that squared circle.
I personally enjoyed the bout and have no complaints on the result but I would definitely petition for a rematch of the two sooner rather than later.
Until then, congratulation to both warriors for giving us fans a hell of a clash.
Blaze
On The Watch "Its All About Adonis Stevenson vs Badou Jack"