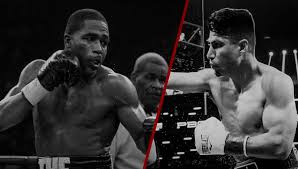 This is a fight in my eyes that should have a little bit more steam behind it. REAL TALK! Adrien "The Problem" Broner (33-2, 24 KOs) and Mikey Garcia (36-0, 30 Kos) are both well respected in the boxing world. Both have successful careers to date and both are willing to put it all on the line come Saturday July 29, 2017 on Showtime Boxing at the Barclays Center in Brooklyn, New York.
Garcia the WBC's Lightweight Champion is moving up to the agreed Junior Welterweight limit of 140 pounds. Broner also a past Champion at the Lightweight Division is moving down from the 147 Welterweight Division to challenge Mikey's undefeated record at the Junior Welterweight limit, a familiar Division he not too long ago held a belt at. Skills for skills these two match up pretty well. Ring Generalship (check), Boxing IQ (check) Strength/Power (check). To me this is a legitimate 50/50 fight that could go either way. That being said the boxing aficionados, the boxing media, the boxing fans and the betting circles, most seem to consider Broner the underdog in this battle? REAL TALK!
I understand that Broner needs this win more than Garcia at this point in his career, but an underdog? Come on Ref! The stakes are high here for Broner. If Garcia wins or loses, he's still going to be ok cause he can still go back down to the 135 pound Division and continue defending his WBC Lightweight Championship Belt as if nothing happened.
Now keep in mind Broner has won titles in four different Weight Divisions coming into this fight and Garcia has won in three different Weight Divisions. For people to think that this fight will be a cakewalk for Garcia is ludicrous. Broner has a tough task ahead. He has to come into this bout as the Champion of old in today's form and prove the haters wrong for doubting your Boy. This will definitely be a defining night for Broner. Now will he talk the talk or concede to your Boy Garcia. Your thoughts on this one?
Blaze
On The Watch "Its All About Adrien Broner vs Mikey Garcia