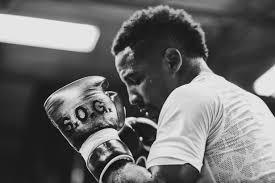 Andre Ward Retiring From Boxing
Today we see another future Hall of Famer hang his Boxing Gloves up. Andre "S.O.G." Ward is one of very few Professional Boxers who get to walk away while still being on the top of his Game. His accolades in this Boxing Game speak for himself. 2004 Olympic Gold Medalist, Two-Division World Champion, Ring Magazine Light Heavyweight Champion, Reigning Pound-For Pound WBA, WBO, IBF and still undefeated (32-0 16Kos). Nuff said.
Haters are going to talk that shit about homey but REAL TALK, I'm happy to see Ward walk away from Boxing on his own terms. Andre is part of that exceptional breed of disciplined Boxers who took the Game seriously and stayed on path throughout his entire career and looking back at it now, all that hard work and dedication to the sport he loved paid off.
Even if his career ends earlier than anyone projected, "Hate him or love him" peeps can't front on what Ward brought to the Boxing World. You will be missed. Thank you Andre "S.O.G." Ward for blessing us with your greatness.
Blaze
On The Watch "It's All About Andre "S.O.G." Ward"