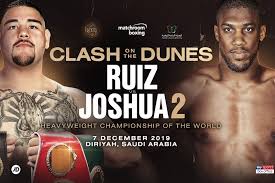 World Heavyweight Championship Challenge
It has now officially been announced. The highly anticipated rematch between newly crowned Unified IBF, IBO, WBA and WBO Heavyweight Champion of the World Andy Ruiz Jr. (33-1, 22 Kos) and former Heavyweight Champion Anthony Joshua (22-1, 21 Kos) is set to take place in an open-air arena in Diriyah, Saudi Arabia on Saturday night December 7, 2019.
In my eyes, what Andy accomplished back on June 1 at Madison Square Garden in New York City is genuinely one of the biggest upsets in Heavyweight history. Having finally tasted the fruits of his labor and enjoying that good life, Andy is now back preparing himself to prove the naysayers wrong if they think his win over AJ was a lucky break. The instant fame and attention he's received till this day, along with holding all them Championship Belts, is something he's not willing to part ways with anytime soon. Ruiz is firmly stating that his hunger to succeed is still there and he wants it to last. come December 7, 2019, Andy is anticipating on still being Heavyweight Champion of the World.
That being said, Anthony is seriously looking forward to the challenge ahead and at becoming a two-time Unified Heavyweight Champion of the World. AJ understands that he badly dropped the ball back in June and is now refocused on righting the wrong and reclaiming the No 1 Spot in the Heavyweight Division. Judging by the previous outcome it may look like Andy has AJ's number and that could well be the case, but I'm anticipating Joshua to make the proper adjustments needed to neutralize Andy's aggressive output.
With a full camp ahead this time around, Andy is expecting to be leaner, faster and that much sharper come fight night for whatever AJ is planning on bringing to that squared circle. Personally, I feel the pressure will be on Anthony to deliver and to deliver in a convincing fashion in order to reclaim the throne that was once his.
Andy ruined AJ's U.S. debut back in June at Madison Square Garden in New York City. It will be up to Anthony to make sure history doesn't repeat itself in Diriyah, Saudi Arabia on Saturday night December 7, 2019, live on DAZN and Sky Sports Box Office. Tune in and witness the outcome.
Blaze
On The Watch "Its All About Andy Ruiz Jr. vs Anthony Joshua"