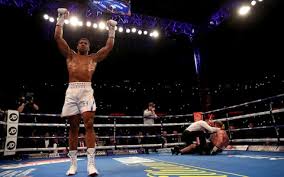 World Heavyweight Championship Challenge
Tonight, on a drizzling night at Wembley Stadium in London, England, Anthony Joshua (22-0, 21 Kos) successfully retained his IBF, IBO, WBA and WBO Heavyweight Titles by systematically defeating Alexander Povetkin (34-2, 24 Kos).
It was by no means a walk in the park for AJ but seven rounds are all it took for him to figure out Povetkin and administer him his only stoppage to date. Povetkin was a tough, dangerous and a crafty opponent but AJ performed patiently and took his time and calmly waited for the perfect opening to administer a well-placed and timed combination to lay Povetkin down not once but twice which then prompted the referee to halt the bout at 1:59 in the seventh round.
This was a bout that AJ needed to show his dominance. It's clear that being the No. 1 Heavyweight in the game comes with some added pressure from the fans and the competitors in the Division aiming to dethrone the "King". Peeps need to realize and understand that AJ is that "Lion" in the Division but still working hard at perfecting his craft. Every battle is a learning experience and tonight, it was nothing short of another great performance.
The challenges to come will only get harder but it will be up to you AJ to perform to the best of your abilities and prevails while silencing all doubters out there refusing to accept the position you hold in the Heavyweight Division.
Congratulations Champ on reaffirming yourself in the Heavyweight Division in a devastating fashion.
Now on to the next!
Blaze
On The Watch "Its All About Anthony Joshua vs Alexander Povetkin"