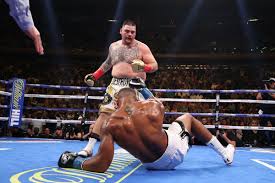 World Heavyweight Championship Challenge
Expect the unexpected. The Heavyweight Division has once again taken a major twist.
Late replacement and substantial underdog, Andy Ruiz Jr. (33-1, 22 Kos) shook the world last night at the Madison Square Garden in New York City to a sell out crowd of 20,201 fans, when he defeated the No. 1 Unified IBF, IBO, WBA and WBO Heavyweight Champion of the World Anthony Joshua (22-1, 21 Kos) by TKO. Unbelievable!!
What started off slow quickly heated up in the third round when both fighters exchanged knock downs with AJ receiving the worst of it by hitting the mat twice to Ruiz's heavy combination punches. Joshua landed the first knock down and immediately went in for the kill but ended up being careless and got caught paying the price.
Joshua's approach was off from the jump. He did not impose his height and reach and fought too tentatively as the rounds wore on. To me AJ looked sluggish and slow while Ruiz showed patience with a sense of fearlessness while stalking AJ.
The underdog Ruiz had suddenly turned the odds around in his favour. Andy's confidence was growing and his presence was being felt inside that squared circle. The pressure was working AJ and his energy was quickly dissipating, and in the seventh round, Anthony tasted the mat two more times in dramatic fashion, eventually leading to the referee calling to stop the fight. Just like that, Anthony Joshua got broken down.
I tip my "B" hat to Andy Ruiz Jr. He came in there with absolutely nothing to lose and walked away dethroning the No.1 Heavyweight in the game, Anthony Joshua, to now become History's first Mexican descent Unified IBF, IBO, WBA and WBO Heavyweight Champion of the world.
Congratulations Andy, your dreams have now become a reality. Enjoy the fruits of you labour, you deserve it!
Blaze
On The Watch "It's All About Anthony Joshua vs Andy Ruiz Jr."