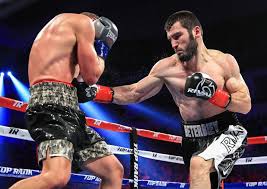 IBF Light Heavyweight World Title
There is a new player in the Light Heavyweight Division ready to shake things up. With Andre "SOG" Ward now retired the IBF Light Heavyweight World Title was up for grabs last night at the Save Mart Arena in Fresno, California.
Undefeated #2 IBF two-time Russian Olympian Artur Beterbiev (12-0, 12 Kos) and Enrico Koelling (23-2, 6 Kos) were the two fighters enlisted to take part for the IBF Light Heavyweight World Title.
Beterbiev has won on every level he has competed at to date and this opportunity wasn't about to be any different. His dream of becoming a World Champion was his for the taking by any means necessary.
That being said, in a not so exciting bout Beterbiev quietly dismantled Koelling by dropping him two times in the 12th round when the referee decided enough was enough and halted the bout. The fans in attendance weren't too impressed with Artur's performance on that night but having seen first hand how Beterbiev usually handles his opponents, I wouldn't stress this one too tough cuz your Boy Artur can crack with extreme power and box very well. I personally would worry about the next Dude to duke it out with him because the Light Heavyweight Division is in trouble once this Dude gets it going. REAL TALK!
Congratulations "King Artur" on becoming the New IBF Light Heavyweight World Champion.
Blaze
On The Watch "Its All About Artur Beterbiev vs Enrico Koelling"