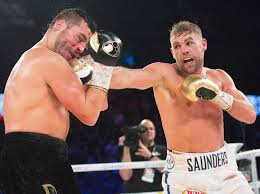 WBO Middleweight Championship
Last night at the Place Bell in Laval, Quebec, Canada, I witnessed firsthand how seemingly easy BJ Saunders (26-0, 12 Kos) dismantled heavy fisted David Lemieux (38-4, 33Kos) in his hometown. REAL TALK!
I have to seriously tip my "B" hat to BJ's masterful display of skill he performed with in that squared circle. BJ had absolutely no "RESPECT" nor "FEAR" for David Lemieux perceived and well-known abilities on that stage last night. BJ came on enemy soil and schooled, dazzled, out boxed and outsmarted the bully in his own house.
It was impressive to see just how dominant BJ was round by round. The man toyed with the puncher and made it a cat and mouse game by using exceptional movement and slick footwork to prevent David from ever being able to land anything of significance. David had absolutely no answer to BJ's astonishing offence.
The "Kid" did his homework on Lemieux and executed the game plan to a "T". You have to give "props" to his trainer Dominic Ingle for seriously reviving BJ's career cause last night I witness a "World Class Boxer" in Billy Joe Saunders in that squared circle.
Congratulations Champ on retaining your WBO Middleweight Championship in such a convincing manner, you truly are a legit threat in the Middleweight Division.
Your thoughts on this one?
Blaze
On The Watch "Its All About Billy Joe Saunders vs David Lemieux"