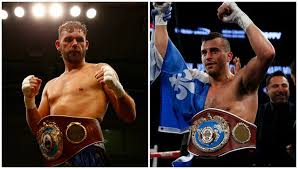 WBO Middleweight Title Challenge
It's official. We Canadian Boxing fans will have the privilege of witnessing first hand two of the world's top Middleweights in WBO World Middleweight Champion Billy Joe Saunders (25-0, 12 kos) and David Lemieux (38-3, 33 Kos) do battle Saturday December 16, 2017 at the Place Bell in Laval, Quebec.
I have to tip my "B" hat to Billy Joe Saunders for being real to his words and stepping his Game up with a serious competitor like David Lemieux. Agreeing to a title defense in an opponent's backyard is proof enough for me to see that BJ is really about that life and is actually daring himself to be great.
A bout against the homegrown heavy fisted David Lemieux in Canada is a dangerous fight but one that can definitely create a certain amount of buzz within the Division. To go into someone else's house and beat them speaks volume in this Game. REAL TALK!
Styles make fights and this one here has the potential of being a very interesting one. REAL TALK! We got BJ as the slick savvy boxer-puncher going toe-to-toe with Lemieux, a persistent banger who only knows how to move forward with hard blows and a dirty left that's been known to cripple quite a few opponents.
There is a lot at stake here for both fighters. For BJ, a win against Lemieux would definitely make his stock rise and show the Middleweight Division that he's not just all talk and should be taken as a major player from this point on. For Lemieux, a win against BJ would give him the status of a Two-Time World Champion, the WBO World Middleweight belt in hand and the main piece to lure a rematch against Gennady Golovkin or a title fight with Canelo Alvarez.
BJ is promising to do a lot of damage to Lemieux even to the point of beating him to a stoppage. Now I know that BJ has found himself being rejuvenated under the tutelage of trainer Dominic Ingle but damn his confidence is on 100 right now.
Listen all I know is that BJ better not underestimate Lemieux come fight night cause your Boy David is a proven warrior whose conquered some heavy hitters in the game and has the track record to prove it. Don't be fooled by his three losses but do pay attention to his "33 Kos". This Kat can seriously crack at any given time in that squared circle.
As the Middleweight Division is stacking up with new faces, this fight is a great opportunity for David and BJ to show the rest of the Division what level they're on by giving us a hell of a showdown. May the best man win!
Your thoughts on this one?
Blaze
On The Watch "Its All About Billy Joe Saunders vs David Lemieux"