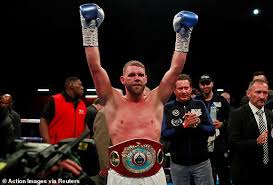 Vacant WBO Super-Middleweight Title
In his first meaningful fight since David Lemieux, Billy Joe Saunders (28-0, 13 Kos) moved up to the Super-Middleweight Division and challenge No. 1 rated WBO challenger Shefat Isufi (27-4-2, 20 Kos) for the vacant WBO Super-Middleweight Title at the Lamex Stadium, Stevenage.
On paper this bout looked like an even match considering BJS was coming up in weight from the Middleweight Division. However, as the bout progressed, it quickly became clear that we were witnessing another BJS vs David Lemieux type performance inside that squared circle.
For someone who didn't have an active outing in 2018, BJS was sharp as a whistle-bobbing and weaving, slipping and dipping and popshots at will. BJS controlled every round. There are levels to this Boxing sh*t and it was evident last night that Isufi did not belong in that squared circle with BJS.
No disrespect to Isufi, Dude showed up to fight and gave it a good try even had a good round six in his favour but not enough to sway the Judges. All three Judges scored the fight 120-108, 117-111 and 118-110 in favour of Billy joe Saunders. Nuff said!
With this dominant performance by Billy Joe Saunders, the former WBO Middleweight Champion now becomes a two-weight Champion by capturing the vacant WBO Super-Middleweight Title.
Billy Joe is a problem in either weight Division. I can't wait to see what becomes of his latest acquisition.
Congratulations on your latest achievement Billy.
Blaze
On The Watch "Its All About Billy Joe Saunders vs Shefat Isufi"