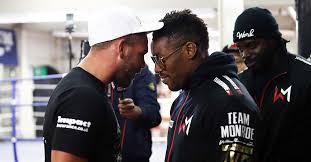 WBO Middleweight Title Challenge
Once again another important Middleweight fight is flying under the radar due to the Middleweight Supremacy battle between Canelo Alvarez and Gennady Golovkin, which definitely needs some attention.
Billy Joe Saunders (24-0, 12 Kos) will be making his second defense of his WBO Middleweight Championship Title against Willie Monroe Jr. (21-2, 6Kos) on Saturday September 16, 2017 at London's Copper Box Arena live on BT Sport and Box Nation.
Judging by the change of trainer to Dominic Ingle and the newfound discipline of Billy Joe, I'm starting to think that he's actually taking this defense seriously. Billy is viewing this defense as a new beginning a renewed focus to actually attempt at unifying the Middleweight Division. In his mind securing a convincing win against Willie Monroe could open up talks between the winner of Canelo/Golovkin.
With that being said Willy Monroe is hoping to disrupt Saunders future plans by attempting to snatch the WBO Middleweight Title from him. The WBO Belt is the last remaining missing piece to the puzzle. The winner between Saunders' and Monroe Jr. will have a major bargaining piece to bring to the negotiating table. Losing is not an option for either fighter vying for a shot at the "Throne" in the Middleweight Division.
Ultimately the pressure relies on Billy to perform like the Champion that he is proclaiming to be. The last two years for him have not been his greatest considering injuries while also playing the waiting game with the lack of good competition. He's been talking a lot of trash as of late so its time to back it up.
I personally anticipate for this bout between Saunders/Monroe to be a very competitive. Stamina will play a major part in this one. Both are unique Boxers in their own way. With Billy's newfound "fountain of youth" on display and Willie's fired-up hunger to dethrone the Champ in his own house, we can certainly expect an action-packed evening. Your thoughts on this one?
Blaze
On The Watch "Its All About Billy Joe Saunders vs Willie Monroe Jr."