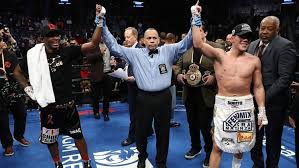 WBA Junior Middleweight Challenge
Fresh of his gruelling unification defeat of April 2018 to Jarrett Hurd, Erislandy Lara (25-3-3, 14 Kos) jumped right back into the mix and into that squared circle last night at the Barclays Center in Brooklyn, New York to challenge younger unbeaten WBA (regular) Junior Middleweight Champion Brian Carlos Castano (15-0-1, 11 Kos).
Both combatants came out their respective corners with one thing in mind: to prove that they belong amongst the best in the 154-pound Division. The end result after 12 hard rounds was an unsettled split draw. One Judge had it 115-113 for Lara, one Judge had it 115-113 for Castano and the third Judge had it dead even 114-114.
Real Talk! I can't front, it was a real tight fight with both warriors having their way from time to time but personally I think Lara had the cleaner work. Lara was way more accurate with his punch selection while Castano not as precise but definitely more aggressive with his punch output.
Castano's stalking tactics throughout the bout is what kept him in the "Game" all night. His "phone booth" style of fighting was very effective but Lara's defense was also keeping Castano from administering heavy pain.
That being said, Castano's performance last night proved that he can definitely hang with the "top dogs" in the 154-pound Division. Going 12 tough back and forth rounds with "The American Dream" Erislandy Lara is no easy task.
With no clear winner or loser on the night, Castano retained his WBA (regular) Junior Middleweight Championship Title in the hope of securing a unification bout with the other Champions in the 154-pound Division or better yet a rematch with Lara to clear the air?
Your thoughts on this one?
Blaze
On The Watch "Its All About Brian Castano vs Erislandy Lara"