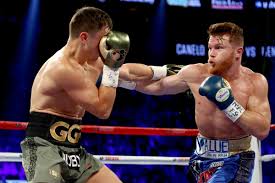 "Middleweight World Supremacy Battle To A Split Draw"
First off I would like to congratulate both Canelo Alvarez (49-1-2 34KOs) and Gennady "GGG" Golovkin (37-0-1 33KOs) for giving us a hell of a fight. This Middleweight Battle was as good as expected. Both fighters stepped up to the plate and performed at a high level. "GGG" stayed true to himself as he was the aggressor chasing down the "Pitbull" Canelo whom surprised me with his constant movements around the ring. Which was very unusual for him.
Both fighters were dropping "bombs" on each other. Golovkin had his jab game on point on that night but Canelo had his combination and counterpunches to answer the jab. I have to give the "ring generalship" to Golovkin cause he seemed to cut off the ring well and pretty much controlled the fight. Canelo established himself as a true Middleweight in withstanding Golovkin's onslaught like a worrier. Your Boy's chin is serious. REAL TALK! He gave his fair share to Golovkin, whether "GGG" respected his power it's another question.
For 12 full rounds of action we saw two of the Pound-For-Pound best Middleweights the game had to offer duke it out in that squared circle. The result, a split draw?
Golovkin will retain his IBF, IBO, WBC and WBA Middleweight Titles while Canelo still remains The Ring Magazine and lineal Middleweight Champion since no one has officially beaten him for taking the WBC, Ring and lineal Middleweight Titles from Miguel Cotto back in November 2015.
That being said the unexpected but not too surprising "Drama Show" came in the hands of one particular Judge Adalaide Byrd scored the closely contested fight 118-110 for Alvarez? Judge Dave Moretti scored it 115-113 for Golovkin and Judge Don Trella scored it even, 114-114.
Truth be told this fight was a damn close one no disputing that but to call it 118-110, you have just tainted this "Battle of Middleweight Supremacy". Now the question remains, will a rematch be the next chapter or will we be left to ponder what could have been? Your thoughts on this one?
Blaze
On The Watch "Its All About Canelo Alvarez vs Gennady Golovkin"