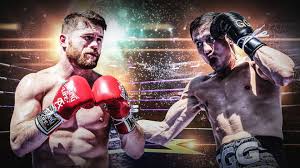 Middleweight World Supremacy Battle Take 2!
The Battle of the Middleweight World Supremacy between Canelo Alvarez (49-1-2, 34 KOs) and Gennady Golovkin (37-0-1, 33 KOs) is back on once again on May 5th at the T-Mobile Arena in Las Vegas.
This highly anticipated sequel between these two badass Middleweights has taken a life of its own. Both fighters feel like they both did enough last September 16, 2017 to walk away with the win. The 12-round split draw has left them both with a sour taste in their mouth and the only way to get rid of it is to battle it out and take the Judges out of the equation one time!
As expected the trash talking has been quietly building up some steam as of late from both sides. Canelo is talking real greasy about guaranteeing a knockout while Golovkin is stating that he will put in some heavy bodywork to slow down the pit-bull from moving around all over the place. Golovkin will be aiming to breakdown Canelo systematically round by round.
They both have tasted each other's best shots so hopefully the fear factor is out the window and these two combatants meet up in the center of the ring and go blow for blow. Both have very exceptional skills that will come into play. Canelo is very elusive with exceptional Boxing IQ.
Golovkin's Boxing IQ is also exceptional but his style is that of a more aggressive fighter who doesn't like to waste too much energy when he's putting in that work inside that squared circle.
Neither fighter appeared badly hurt at any point during their initial clash but I'm thinking this go around someone is definitely going to feel some serious pain. What we the fans need and want from our fighters is the best to fight the best but that only comes second to what these two-determined combatants want to accomplish and that's a clear-cut winner come Saturday night May 5th at the T-Mobile Arena in Las Vegas.
All the Middleweight Belts WBC, IBO, WBA, IBF are at stake and there can only be one clear Champion.
Who you got on Take 2 of this Battle of the Middleweight World Supremacy?
Blaze
On The Watch "Its All About Canelo Alvarez vs Gennady Golovkin"