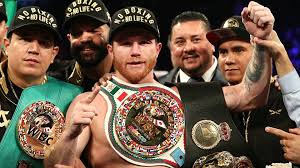 Middleweight World Champion
Last night at the T-Mobile Arena in Las Vegas, in front of a sellout crowd of 21,965, a New "King" in the Middleweight Division was crowned. Canelo Alvarez (50-1-2, 34 Kos) has now dethroned the previous Pound-for-Pound "King" of the Middleweight Division Gennady "GGG" Golovkin (38-1-1, 34 Kos).
With this win Canelo is once again the Lineal Champion with some new added hardware to his name, the IBO, WBA, and WBC Middleweight Titles are now in his possession.
This bout was simply a beautiful display of two highly skilled boxers fighting for the "supremacy" of the Middleweight Division. This second time around really felt like a continuation of their first encounter but with the added adjustment especially from Canelo.
There was absolutely no shortage of excitement last night, Canelo walked it like he talked it and backed it up as promised inside that squared circle. Canelo said he was going to be there inside the center of the Ring and he meant it. From the first round to the twelfth, Canelo stayed engaged and pressed it on Gennady round after round. That being said Gennady didn't shy away from Canelo either, they both fought back and forth but to everybody's surprise Canelo still stood his ground and in my eyes was definitely landing the more consistent power shots between the two which was very surprising considering Gennady is the known stalker with the heavier hands but on this night, Canelo handled himself exceptionally well. Real Talk!
Truth be told this bout, once again could have easily been called a draw because the rounds were so damn close to call but I have to tip my "B" hat to your Boy Canelo for sticking to the game plan at hand and administering "GGG" his first defeat of his professional career. This by no means, was not an easy fight for either combatant but definitely one to be proud of for the winner considering the level of difficulty each combatant presented inside that squared circle.
Congratulations Canelo on imposing your will and becoming the New Middleweight "King" of the Division. This is a win well deserved.
Blaze
On The Watch "Its All About Canelo Alvarez vs Gennady Golovkin"