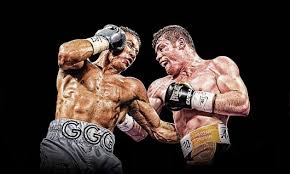 "Middleweight World Supremacy"
With the "Money Fight" between Mayweather and McGregor now successfully completed it is now time to navigate our attention to the "Countdown" to possibly one of the biggest Middleweight Division battle in History to date. REAL TALK! Saul "Canelo" Alvarez (49-1-1, 34 Kos) will attempt to dethrone WBC, WBA, IBF, IBO undefeated Middleweight Champion Gennady "GGG" Golovkin (37-0, 33Kos).
Some fights are left to "marinate" for too long and end up missing the mark. This fight has had 2 years of "hype" built up behind it and personally as a boxing fan I felt this challenge would never take place.
Expectation is running high for both fighters. Both clearly think and believe that this bout will most likely end by way of knock out. Now let's keep in mind that Canelo is taking part in his first full Middleweight limit of 160-pounds while Golovkin has been vacationing there from the jump. The Middleweight Division belongs to him; he's at top of the food chain. Now with that being said, the odd makers have Golovkin as a slight favorite against Canelo, who happens to be eight years younger than him.
To me I see this battle of the "Middleweight Supremacy" as being a tough 50/50 fight. Neither Golovkin nor Alvarez has been knocked down as a pro to date but come Saturday September 16, 2017 in Las Vegas this will most likely change. REAL TALK!
With so much at stake for both fighters, neither can afford to slip up or come in unprepared. Both fighters are strong and aggressive with very good boxing IQ. The experience is there but who will crumble when the going gets tough and there's nowhere to hide in that squared circle but to duke it out?
There is no shortage of confidence on either side. Golovkin is claiming "Big Drama Show" while Canelo is looking to silence and shock all doubters' on September 16 at the T-Mobile Arena in Las Vegas, live on HBO pay-per-view. So many questions to be answered but who will step up their "Game" and move on to a superior level at the end of the night? Your thoughts on this one?
Blaze
On The Watch "Its All About Canelo Alvarez vs Gennady Golovkin"