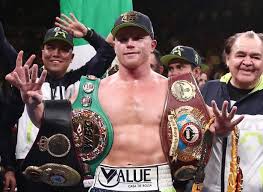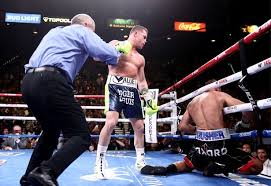 WBO Light Heavyweight Challenge
Middleweight "King Pin" Champion Canelo Alvarez (53-1-2, 36 Kos) added another chapter to his history-making career last night at the MGM Grand Arena when he knocked out WBO Light Heavyweight Champion Sergey Kovalev (34-4-1, 29 Kos) in the eleventh round.
This bout was a chess match played at the highest level. Kovalev's "game plan" was clear and executed to perfection. Sergey proceeded as instructed with his stiff jab and doubling up whenever permitted. As good as Kovalev's jab was all night it literally came down to who had the better tactical approach on the night.
Canelo showed exceptional patience from the start. He did not let Kovalev's jab deter him from the plan at hand which was making every punch count with controlled aggression. Canelo showed absolutely no fear towards the visibly bigger Kovalev. It was a thing of beauty to see how Canelo was systematically breaking down Kovalev's body attack round by round.
Kovalev showed great boxing IQ throughout the very close bout but seemed to tire in the later rounds. All though the pace of the fight wasn't that fast, Sergey was visibly looking weaker and ready for the "end game". By round 11, Canelo went in for the kill with a devastating two-peace combo that flattened Kovalev into the ropes. Nuff said.
With this win, Canelo has once again conquered his fourth Division and becoming the fourth Mexican boxer to accomplish such an achievement. That being said, Canelo is now the only active boxer to concurrently hold world titles in the Light Heavyweight Division, Super Middleweight Division and Unified Middle Weight Division.
Congratulations Canelo on another great accomplishment. You are truly defying all odds and literally creating your own History.
Until the next chapter Champ.
Blaze
On The Watch "It's All About Canelo Alvarez vs Sergey Kovalev"