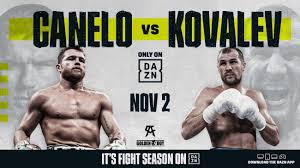 WBO Light Heavyweight Challenge
Its Official, Middleweight "King Pin" Champion Canelo Alvarez (52-1-2, 35 Kos) will be moving up two weight Divisions to challenge Sergey Kovalev (34-3-1, 29 Kos) for his WBO Light Heavyweight Championship on Saturday November 2, 2019 at the MGM Grand Garden Arena in Las Vegas.
From having two tough bouts with Gennady Golovkin onto a stern challenge with Daniel Jacobs, Canelo is now seeking to outdo himself once again by attempting to dethrone the Three-Time Light Heavyweight Champion Sergey Kovalev and become the fourth Mexican fighter to win World Titles in four different Divisions.
I'm very intrigued with this matchup. A lot of people in the boxing community see this bout as a cherry pick by Canelo but I personally see it has a real tough task ahead for Alvarez. Real Talk! Peeps need to stop looking at Kovalev's age and really see what the "Krusher" brings to that squared circle. With trainer Buddy McGirt by his side leading the helm and challenging him in camp, Kovalev has now regained focus and is now showing up a more disciplined fighter inside the ring. Sergey has shown us many times before that he is a very smart, skillful fighter with an extended boxing IQ that also carries heat in both hands. Definitely not a walk in the park for any competitor.
That being said, Canelo is out here chasing history and testing himself every time he enters that squared circle. Canelo is the total package at this point in his career. Skill for skill Alvarez is heads above most and on this night, November 2, 2019 Canelo will be banking on his extensive skills and the right "game plan" from trainer Eddy Reynoso to take down the visibly bigger and stronger "Krusher".
A successful leap from the 160-pound Division to the 175-pound Division is not familiar. In fact, only a few of the greats have succeeded in doing so but Canelo feels he is destined to join the limited prestige club and plans on achieving that goal come Saturday night November 2, 2019 live on DAZN at the MGM Grand Garden Arena in Las Vegas. That is if he can effectively slay the "Krusher" down to pieces.
Blaze
On The Watch "Its All About Canelo Alvarez vs Sergey Kovalev"