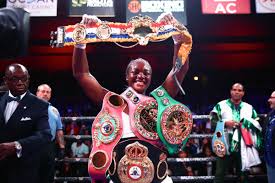 Undisputed Middleweight Championship
Last night's performance by Claressa Shields (9-0, 2 Kos) at the Boardwalk Hall in Atlantic City, New Jersey, was a thing of beauty. Real Talk! Claressa talked that talk and backed up every word of it inside that squared circle and in doing so walked away the Undisputed Women's Middleweight Champion of the World. Real Talk!
Shields, the younger Champion simply outclassed and outworked Hammer (24-1, 11 Kos) the more seasoned Champion round by round. Claressa fought with that hunger in her eyes while Christina showed fear with no real sense of urgency knowing, she was behind on the cards.
Personally, I expected Christina to put up a way better performance than what she came out with last night but truth be told Hammer had absolutely no way of disrupting Shields's onslaught. Claressa's speed, high work rate, counter punches combined with her power punches were just too much for Christina to settle in any type of offensive redeem.
This "Super Fight" was a one-sided schooling session by the younger but highly gifted Claressa Shields. All three Judges were in agreeance with the score of 98-92 for Claressa Shields. Nuff said!
Claressa came in with the IBF, WBA and WBC Middleweight Belts around her waist and picked up the WBO Championship Belt from Christina and the prestigious Ring Magazine Belt that was also up for grabs on this very special night. Dream achieved.
With all 5 Belts now safely in her possession, Claressa is willing to challenge herself one step further by moving one weight Division down to Welterweight and challenge the Undisputed Champion Cecilia Braekhus, the first women in any weight class to hold the WBA, WBC, IBF, WBO, IBO and Ring Magazine Titles concurrently.
Listen, if this "Super Fight" were ever to come to fruition, the winner of this bout could definitely lay claims to being crowned "The Greatest Female Boxer" of all time. Real Talk!
Until then congratulations on your Historical achievement.
Blaze
On The Watch "Its All About Claressa Shields vs Christina Hammer"