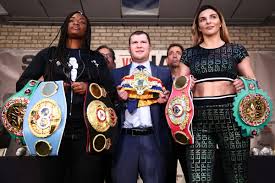 Middleweight Unification Challenge
Women's Boxing has been picking up some steam as of late and will continue in doing so with the first Undisputed Showdown in the women's 160-Pound Division.
This unification bout on the horizon between Claressa Shields (8-0, 2 Kos) a Two-Division Champion who holds the IBF, WBA and WBC Belt, and Christina Hammer (24-0, 11 Kos) who possesses the WBO and WBC Champion in Recess Belt, will go down in history as one of the biggest women's bout for the ages.
These two young Undefeated Champions, in their prime, are putting it all on the line Saturday April 13 at the Boardwalk Hall in Atlantic City, New Jersey.
It's clear off the jump that Christina has the edge base on the experience. Having been a Champion for over eight years she definitely "hammered" her way through the Women's Middleweight Division with her gloves up.
That being said, Shields is not your typical girl on the come up. Claressa has entered the professional level iced up with back-to-back Olympic gold medals in 2012 and 2016, then after four fights in she acquired two Super Middleweight World Titles. To further challenge herself Claressa then dropped down to the Middleweight Division and contested for two vacant Middleweight Titles that she proudly owns the rights to today.
Christina considers herself the best Middleweight in the "Game" and plans on putting the "Hammer" on Shields come fight night but truth be told, Claressa has her own agenda and will be looking to prove Christina wrong by becoming the Women's Undisputed World Middleweight Champion.
Skills for skills these two female warriors match up pretty well inside that squared circle but there can only be one face, one name, one champion. Who will prevail under pressure and the bright lights?
Tune in Saturday night, April 13 live on SHOWTIME from the Boardwalk Hall in Atlantic City, New Jersey and be part of a historical night.
Blaze
On The Watch "Its All About Claressa Shields vs Christina Hammer"