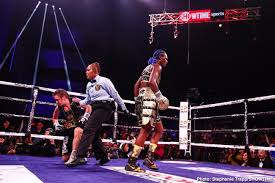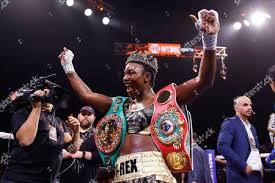 Vacant WBC/WBO Junior Middleweight Challenge
Last night's SHOWTIME showdown Main Event from the Ocean Casino Resort in Atlantic City, between Claressa Shields (10-0, 2 Kos) and Ivana Habazin (20-4, 7 Kos) was a beautiful display of boxing.
Shields, the self-proclaimed "GWOAT" of boxing, walked it like she talked it by administering a clear one-sided beatdown to Ivana. Claressa systematically broke down Ivana from top to bottom with a series of body shots that eventually dropped Habazin in the 6th round for a quick 8 count that eventually demoralized Ivana for the remainder of scheduled 10 rounds.
In short, Claressa simply outboxed and outclassed her opponent in every possible category. Ivana had absolutely no proper "game plan" or the required skills to stunt or slow down the onslaught that Claressa was dispensing towards her.
Truth be told, Claressa made it look easy – so easy that Judges scored it after 10 rounds of action; 99-89, 100-90 and 100-89 for Shields by unanimous decision. Ivana was a very worthy opponent that talked a good game but couldn't back up one word inside that squared circle. Real Talk!
With this win, Claressa picked up the vacant WBC/WBO Belts and became the fastest fighter male or female in boxing history to win World Titles in three separate weight division: 168, 160 and now the 154 pounds.
By accomplishing this astonishing coup in just her 10th professional bout, Claressa has also beaten the previous record recognized by Vasiliy Lomachenko (14-1, 10 Kos) and Kosei Tanaka (15-0, 9 Kos) who each became Three-Weight Division World Champions in their own 12th bouts in 2018.
The self-proclaimed "GWOAT" is the truth inside that squared circle. Taking the Queen off her Throne won't be easy. Claressa is seriously creating that positive attention that's been missing in woman's boxing. That dedication and hard work that she's been displaying night in and night out is paying off in every possible way.
Congratulations on your latest achievements Claressa – they are well-deserved.
Blaze
On The Watch "Its All About Claressa Shields vs Ivana Habazin"