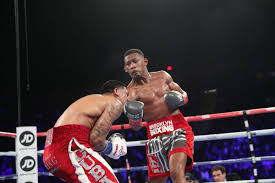 World Championship Boxing
School was in session last night at the Nassau Veterans Memorial Coliseum in Uniondale, New York. In his first fight back since losing a controversial 12 round decision to Middleweight Kingpin Champion Gennady Golovkin last March, Daniel "Miracle Man" Jacobs (33-2, 29 Kos) returned to the squared circle and convincingly won a unanimous decision over previously undefeated Luis Arias (18-1, 9 Kos).
There are levels to this Boxing Game and last night was mainly about that. Luis Arias is a tight boxer with exceptional skills but fell short in getting outclassed in that squared circle by a more seasoned and proven boxer. Your Boy Jacobs is the truth REAL TALK! His Boxing Game is legit and this bout was just what Jacobs needed to get back to his winning ways come 2018.
Peeps can talk that sh*t about Jacobs all they want but this Boy is still a major player in the Middleweight Division hands down. He's hungry and determined to regain a title belt once again by any means necessary.
As of right now Jacobs is targeting the winner of the Sauders vs Lemieux bout on December 16, 2017 for the WBO Middleweight Championship in Montreal. It will be interesting to see if either of them accepts his challenge when it's all said and done.
Until then, congratulations on your win Daniel.
Blaze
On The Watch "Its All About Daniel Jacobs vs Luis Arias"