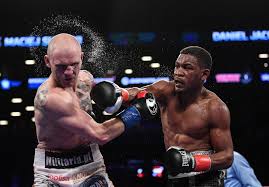 WBA Middleweight Title Eliminator
Last night at the Barclays Center in Brooklyn New York, Daniel Jacobs (34-2, 29 Kos) secured his WBA Middleweight Title Eliminator position by defeating a worthy contender in Maciej Sulecki (26-1, 10 Kos).
This was an exciting bout from start to finish. Real Talk! This Kat Sulecki may have sounded as an unknown to casual boxing fans but last night he definitely made a name of himself and showed the Middleweight Division that he's a real -life player to be taken seriously. Although the outcome wasn't what he had hoped for his aggressive style kept the attention of the fans in attendance.
That being said there are levels to this boxing sh*t and Daniel Jacobs is definitely levels above Sulecki. When the going got a little rough, Jacobs stepped up his game and showed Sulecki why he's one of the top dogs in the Division. Sulecki was a tough customer who came out the gate ready to fight. The Kat's got heart with no intention of backing down, but Jacobs is a seasoned warrior who adjusted on the fly and kept steady control of his opponent. It was a back and forth type of fight from round to round but when it was time for the curtain call, Jacobs knocked Sulecki down with a straight right hand in the 12th round with less than minutes left to wrap off the performance. Nuff said.
Jacobs needed a tough outing like this to keep him sharp and ready with that hunger for more. This win makes him a WBA mandatory challenger to Gennady "GGG" Golovkin and gives him another opportunity to redeem himself for his loss to "GGG" by unanimous but controversial decision in a close 12 round title fight back in March 2017.
Congratulations on your win Danny. Until your next bout stay focus and ready at all times.
Blaze
On The Watch "Its All About Daniel Jacobs vs Maciej Sulecki"