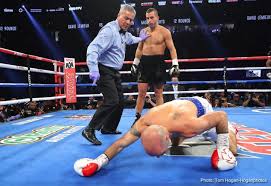 WBA Middleweight Mandatory Challenge
David Lemieux (40-4, 34 Kos) showed up last night at the T-Mobile Arena and redeemed himself once again on the big stage in Las Vegas in a do or die bout against Gary "Spike" O'Sullivan (28-3, 20 Kos) and handed the Irishman a devastating first round knockout for the ages.
When focussed, healthy and fit, David is a real problem inside that squared circle. I'm not sure what game plan "Spike" had in mind on that night but he surely miscalculated his approach towards Lemieux. "Spike" talked a good game and I personally thought he would have at least made a fight out of it but to my surprise, Lemieux came ready to shut it down nice and early 2:44 in the first round is all he needed. Real Talk! It was the type of display Lemieux has been known for but with his last failed showing against WBO Middleweight "Kingpin" Billy Joe Saunders, the boxing community was suspect on what to expect. That being said, Lemieux silenced the masses in attendance with his fan friendly performance.
With this showing Lemieux has now secured a Middleweight mandatory position and may possibly get a bout with the newly crowned "King" of the Middleweight Division Canelo Alvarez.
This is a bout that Lemieux really wants but personally I think he might be reaching in asking for that bout. Although his performance was quite impressive, I think two more wins against any of the top-heavy hitters in the Middleweight Division might be in order. As much as I'm a fan of our own Canadian Lemieux, I still need to see some consistency and discipline along with a few more back-to-back wins to even think of challenging for another title let alone the top Dude in the Division.
Your thoughts on this one?
Blaze
On The Watch "Its All About David Lemieux vs Gary O'Sullivan"