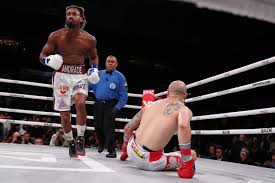 WBO Middleweight Title Challenge
In his first hometown fight last Saturday night in DAZN's main event at the Dunkin Donuts Center in Rhode Island, Providence, WBO Middleweight Champion Demetrius Andrade (28-0 17 Kos) had himself a showcase type performance in shutting out highly ranked Maciej Sulecki (28-2, 11 Kos).
It was clear from the first round that there are levels to this Boxing sh*t and Sulecki found that out quick when he got dropped for an 8 count. No disrespect to Sulecki who was a worthy opponent but, on that night, Sulecki had met his match. I expected to see a competitive bout between them two but as the rounds wore on Andrade's superior skills were on full display and turned the bout into a glorified sparring session for his home crowd to witness live.
Sulecki seemed out of place and had absolutely no answer to Andrade's slick offensive attack and defensive skills. Truth be told this was the first time I saw Sulecki get outboxed and literally shutout for a full twelve rounds of action. No other opponent has ever had this much success against him until that night. All three of the Judges scored it 120-107 for Andrade.
That being said, Andrade is a serious problem in the Middleweight Division and to any competitors game enough to step into that squared circle with him. I personally think we still haven't seen the best of Andrade yet. But if the Unified "Kingpin" Champion of the Middleweight Division Canelo Alvarez (52-1-2, 35 Kos) were ever to accept his challenge maybe then we would see Andrade's full arsenal on display and finally get the best fighting the best for Undisputed Middleweight Champion of the World. Just a thought.
Until then Demetrius keep piling up them wins, your call will be answered soon.
Blaze
On The Watch "It's All About Demetrius Andrade vs Maciej Sulecki"