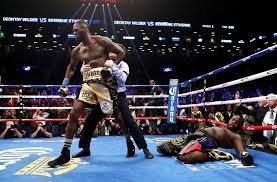 WBC Heavyweight Title Challenge
Due to Luis Ortiz recent failed drug test, Deontay's challenger on Saturday night November 4, 2017 at the Barclays Center, Brooklyn New York, became none other than his original mandatory in Bermane Stiverne (25-3-1 21Kos).
With the disappointment of the highly anticipated fight between Luis Ortiz and Wilder (39-0 38Kos) being cancelled, Deontay wanted to take his ever-growing frustration out on Stiverne and make a statement in the Division.
Now keep in mind that this fight was a rematch of their 2015 meeting, when Wilder first captured the WBC Title from Stiverne with a twelve round unanimous decision. At the time Stiverne was the only opponent to date who hadn't been knocked out by Wilder.
Both fighters had something to prove. Stiverne wanted to avenge his loss and recapture his WBC Belt while Wilder wanted to finish the job in an even more convincing manner then the previous time.
Now with that being said Deontay Wilder successfully defended his WBC Heavyweight Title by dropping Bermane Stiverne three times in a dramatically vicious fashion, which prompted the referee to intercede with only seconds left in the first round. Unbelievable!! Personally I thought that Stiverne would have learned something from the 12 previous rounds with Wilder but damnnnn three knockdowns in the first round is a hell of an assertion.
This Kat Deontay is the truth in that squared circle hands down. He walks it like he talks it and keeps on chopping all his opponents down like trees. REAL TALK! I can't front it would have been nice to see how he would have fared with the likes of "King Kong" Luis Ortiz.
With his mandatory out the way now his main focus is unifying the Heavyweight Division. He's calling out Anthony Joshua for all them Belts. The question remains, will AJ answer that call and take the challenge?
Congratulations Champ, way to finish the year 2017 "Bomb Squad".
Blaze
On The Watch "Its All About Deontay Wilder vs Bermane Stiverne"