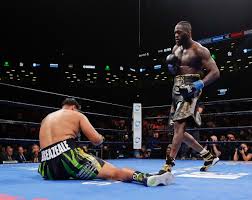 WBC Heavyweight Challenge
Last night's Main Event at the Barclays Center in Brooklyn, New York was another highlight reel for the WBC Heavyweight Champion Deontay Wilder (41-0-1, 40 Kos). Real Talk!
The "Bronze Bomber" handled his mandatory challenger Dominic "Trouble" Breazeale (20-2, 18 Kos) in a demoralizing fashion with a ruthless one-punch knockout at 2:17 of the very first round. The sh*t was straight out of a video game. Night Night!
This sh*t had way more hype in the build-up of the fight then the actual bout. Breazeale talked a good game and spoke of strategies and all that but, real talk, when that bell rung, Breazeale's "Game Plan" went out the ring once Deontay connected with that straight right hand. Lights out!
I was hoping to see some rounds out of Breazeale and see what Deontay had been working on but clearly, Wilder had a different agenda and called it an early night. (Dude had an after party he needed to attend and he had to make sure he was clean ).
With a destructive performance like this, Deontay reaffirms his stance as the hardest hitting Heavyweight in the game today. He may not be the most polished Heavyweight, but one thing is for sure, his power in both hands, is real.
Until then, congratulations on your win Champ. I can't wait to see who signs up for that contract next.
Blaze
On The Watch "Its All About Deontay Wilder vs Dominic Breazeale"