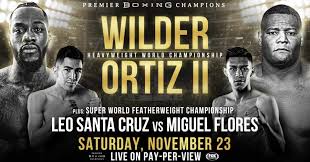 WBC Heavyweight Rematch Challenge
Heavyweight Luis Ortiz (31-1, 26 Kos) has been campaigning for a rematch with WBC Heavyweight Champion Deontay Wilder (41-0-1, 40 Kos) since their last competitive tussle back in March 3, 2018 and his request has officially been announced.
Ortiz will be looking to avenge his one and only loss to date on November 23, 2019 at the MGM Grand in Las Vegas. Although their first encounter ended with Ortiz getting knocked out in the 10th round, everybody in the boxing community knows that Ortiz gave Deontay the business that night and came extremely close to upsetting the WBC Heavyweight Champion. If it wasn't for Luis running out of gas in the later rounds, the end result could have easily been in favour of "King Kong". Real Talk!
That being said, we can't front on Wilder, Dude did drop and stop Ortiz and we all known Ortiz is no one to play with inside that squared circle. However, having shared the ring with Ortiz, Wilder should be better prepared this time around for any possible onslaught Ortiz may have hidden in his arsenal. The "Boogeyman" fear factor will have no effect on the "Bronze Bomber". Dude got his weight up and his confidence is already at 100! Nuff Said!
Peeps in the boxing community are claiming that Ortiz is now showing his age inside that squared circle but still being avoided by his peers. Personally, age aside, Ortiz's skill set is superior to most sh*t talkers in the Heavyweight Division. That said I'm not ready to pull the plug on Ortiz just yet. He campaigned for the rematch with Wilder now he's gotta make it count and show us fans that he can talk it like he walks it. Duplicating that infamous round 7 back in March won't be easy but "King Kong" has got to bring it on fight night in order to have a chance at beating the heavy fisted "Bronze Bomber" inside that squared circle.
Don't miss this action-packed Heavyweight rematch on Fox Sport PBC Pay-per-View on Saturday night November 23, 2019 at the MGM Grand in Las Vegas.
Blaze
On The Watch "Its All About Deontay Wilder vs Luis Ortiz 2″