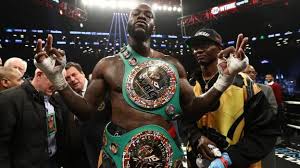 WBC Heavyweight Title Challenge
Last night at the Barclays Center in Brooklyn New York I witness two of the Baddest Heavyweights in the Game put it all on the line in that squared circle and DAMNNN they did not disappoint. REAL TALK!
In my eyes Deontay "Bronze Bomber" Wilder (40-0, 39 Kos) had his one missing defiant bout vs Luis "King Kong" Ortiz (28-1, 24 Kos). Deontay had to fight hard and dig real deep to overcome Ortiz's experience inside that squared circle.
Shit got real for Big Homey. He quickly found out that Ortiz wasn't going to be a walk in the park cause Ortiz came to fight by all means necessary. Truth be told Deontay did put "King Kong" down a total of three time in the fight but real talk in round seven in my eyes Ortiz had the upper hand on Wilder, he had the "Bronze Bomber" out on his feet but the man's heart was pumping hard and would not let him go down. Real talk that bell and the ref saved him on that one. Shit looked bleak for Wilder at that point but like a true Champion that he is my man withstood Ortiz's best shots and continued to survive round by round until the 10th round and connected on Ortiz not once but twice in that round and "King Kong" got clipped in a devastating fashion. Even when tired, Wilder still possesses that knock out power. Unbelievable.
This bout is exactly what both fighters needed to test themselves. The Best fighting the Best. Ortiz showed up and performed beautifully and should have nothing to be ashamed off, he just happened to meet up with the Baddest Heavyweight in the Game today, in Deontay "Bronze Bomber" Wilder. This man is a serious problem for the Heavyweight Division "Hands Down"
Last night Wilder was tested, showed heart, and actually fought from behind in my eyes to secure his most defiant win in his career to date!
Congratulations Champ and thank you for giving us the fans a hell of a Heavyweight Bout. Keep making history and climbing that mountaintop.
Blaze
On The Watch "Its All About Deontay Wilder vs Luis Ortiz"