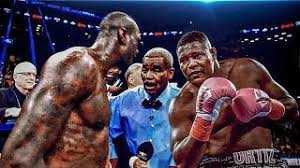 WBC Heavyweight Title Challenge
It's Official. The highly anticipated bout between two of the most dangerous Heavyweights in "The Game" is back on. Deontay has blessed Ortiz once again since their previous schedule bout hit a holdup back in November 4, 2017.
Now the due over between Deontay "The Bronz Bomber" Wilder (39-0, 38 KOs) and Luis "King Kong" Ortiz (28-0, 24 Kos) has been set for March 3, 2018 at the Barkley Center in Brooklyn, New York.
In my eyes, this will most likely be Deontay's stiffest challenge to his career to date. REAL TALK! Wilder has been feeling himself as of late. His last performance against Bermaine Stiverne was devastating and quite the statement to the rest of the Heavyweight Division. Wilder is now claiming to be the No. 1 Heavyweight in "The Game" and is now out to prove it by taking out the undefeated Ortiz in a convincing fashion.
Now let's be real. Ortiz in my eyes is an establish Heavyweight with the skills to pay the bills. Peeps can talk about his age all they want but can't ignore what this man brings to that squared circle. He may not hold a title but he is definitely a major player in the Heavyweight Division.
The winner between Wilder and Ortiz will unquestionably change the landscape of the Heavyweight Division. Two very dangerous and heavy fisted Heavyweights are going to collide and take each other heads of with no remorse for one another.
Wilder the WBC Heavyweight Champion is taking a big gamble by accepting this fight has a voluntary defense, but then again, he is out to prove that he's the real deal. In his mind, he is sure to take out Ortiz by knockout. But Real Talk, this is not rock, paper, scissors, anything can happen in that squared circle. Saturday night March 3, 2018 at the Barkley Center will be "Judgment Night" for two of the baddest Heavyweights in "The Game".
The question still remains, who will be left standing in that squared circle come fight night?
Who you got?
Blaze
On The Watch "Its All About Deontay Wilder vs Luis Ortiz"