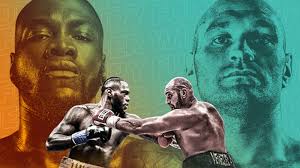 WBC Heavyweight Title Challenge
It has now officially been announced. Two of the biggest Heavyweight Boxers in the game – WBC Champion Deontay Wilder (40-0, 39 Kos) and Linear Champion Tyson Fury (27-0, 19 Kos) have now set a date to bump gloves on Saturday night, December 1, 2018 at the Staples Center in Los Angeles.
Both camps are calling this bout a "Mega Fight" but personally I just can't see it as that considering Fury 's last two outings since his long 2 ½ year layoff. His two-last showings inside that squared circle were lackluster and mediocre at best versus "C" level fighters. Definitely not the type of fight one would take to get ready for a clash with the "Bronze Bomber". This to me sounds like a move from Fury who is simply daring to be great. He's got it in his mind that he is the Best Heavyweight in the "Game" today and is determined to prove it by taking out the hardest power puncher in the Heavyweight Division, Deontay Wilder.
Styles make fights but, in this case, we have two undefeated fighters who are sitting at 6-feet-7 for Wilder and 6-feet-9 for Fury, two very long and awkward styles that could potentially make it real ugly but very intriguing to see?
The odds are favoring the "Bronze Bomber" to knock "The Gypsy King" out cold but Fury has proven the naysayers wrong before and is determined to once again defy the odds stacked against him. Fury's quickness and boxing skill will be on full display as long as he makes sure to stay away from Wilder's "Alabama slammer" but that alone may not be enough for Fury to win the bout.
With their promotional 3-day press tour now in motion the trash talking will be on full display to hype up the bout. Both got mouthpieces to go on for days. There is absolutely no lack of confidence from both fighters but there can only be one winner when it's all said and done.
Tune in on SHOWTIME Pay-Per-View Saturday night December 1, 2018 at the Staples Center in Los Angeles and witness the drama unfold.
Blaze
On The Watch "Its All About Deontay Wilder vs Tyson Fury"