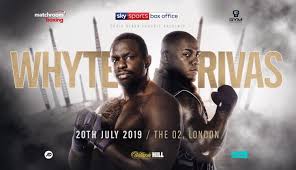 Heavyweight Challenge "Last Man Standing"
It has just been officially announced that Dillian Whyte "The Body Snatcher" (25-1, 18 Kos) will be putting up his WBC No. 1 ranking on the line at the O2 Arena in London, UK on July 20, 2019, against our own undefeated Canadian-based Columbian Oscar Rivas (26-0 18 Kos).
I'm impressed with Whyte taking on this high-risk task by willingly accepting a bout against a tough undefeated Heavyweight on the come up like Rivas.
The name Oscar Rivas may not be familiar to the average boxing fan, but truth be told your "Boy" Rivas is a serious threat who has been avoided by many of the top Heavyweights in the game to date. Judging by his rankings in the WBO No. 5, WBA No. 6, IBF No. 7 and WBC No. 10, you would be foolish to take him on thinking its going to be an easy night. A win over a highly ranked opponent like Whyte would speak volumes in the Heavyweight Division and definitely make for an appealing bout between the two Heavyweight Champions Anthony Joshua or Deontay Wilder.
That being said, Dillian is slated to be the favorite between the two since he's the bigger name and the one who will be fighting at home. Whyte has improved in many areas since he last fought AJ and with his steady momentum of back to back wins, Whyte will be looking to continue the streak all the way to a Championship bout in the near future.
I'm intrigued by this bout and can't wait to see how it will unfold. There is a real potential of an upset. This might be Rivas' coming out party on the big stage under the bright lights or just another body snatched by Dillian.
Whatever the outcome I anticipate a great bout in the making. Tune in and witness the "Last Man Standing" Saturday night July 20, 2019 at the O2 Arena in London, live on Sky SPORTS Box Office.
Blaze
On The Watch "Its All About Dillian Whyte vs Oscar Rivas"