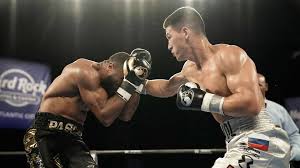 WBA Light Heavyweight Challenge
WBA World Light Heavyweight Champion Dmitry Bivol (15-0, 11 Kos) had himself another dominating performance last night at the Hard Rock Hotel & Casino in Atlantic City when he easily dismantled former Champion Jean Pascal (33-6-1, 20 Kos).
As dominant as Bivol was last night it was certainly not his best performance to date. Bivol has shown us time and time again that he is fundamentally sound with a very high Boxing IQ inside that squared circle; however, I still think he's holding back at times when he's got his opponent hurt.
I was confused by Pascal's game plan or lack thereof. Dude had heart but absolutely no jab or strategic offence whatsoever? It was embarrassing to see a former Champion go out the way he did. Real Talk! Sporadic bursts of punches doesn't do anything if you're not consistent with your pressure throughout the rounds!!
Bivol clearly outclassed Pascal inside that squared circle last night but seemed to have run out of juice in the championship rounds. As polished as Bivol is as a fighter, there are still some unanswered questions that can hopefully be addressed as his competition improves.
Your thoughts on this one?
Blaze
On The Watch "Its All About Dmitry Bivol vs Jean Pascal"