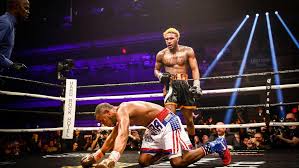 Junior Middleweight Title Unification
Last night on Showtime at the Hard Rock Hotel & Casino in Las Vagas, I saw Erislandy Lara (25-3-2, 14 Kos) the longest reigning 154 pounder take an "L" to the heavy-handed "Swift" Jarrett Hurd (22-0, 15 Kos).
It was a very competitive bout from start to finish. Lara came out the gate with somewhat of a different approach from his usual self. You could see it in his eyes that he wanted to prove a point last night. My man stayed in the pocket "phone booth style" more than usual and bang it out with the heavy fisted Hurd.
Hurd was like a stocker in that squared circle last night. His game plan was straight and simple, seek and destroy by any means necessary. He took in some heavy shots from Lara but his pure size and brute strength was just too much for Lara to shake off. Hurd stayed on Lara's neck throughout every round with none stop pressure until he finally achieved the "game changer" and managed to drop Lara in the 12th and final round. Real Talk until that knock down I had this fight as a draw but that left hook from Hurd sealed the deal.
Two Judges scored it 114-113 for Hurd and one Judge 114-113 for Lara. It was a hell of an impressive bout with non-stop action all the way through. Lara came to fight and showed up with the heart of a true Champion but this young Lion in Hurd just edged him out to steal that win under him.
There is a new "Top Dog" in the Junior Middleweight Division and he goes by the name of "Swiff "Jarrett Hurd. With this win he now becomes Unified Champion with the WBA, IBO and IBF under his possession. This Kid is a serious problem to all competitors in the Division.
His next quest is to be Undisputed Champion but to do that you gotta go through Jemell Charlo the WBC Junior Middleweight Champion and that ain't no walk in the park. Real Talk!
Until then Champ enjoy your latest accomplishments cause you deserve every moment of it.
Congratulations Champ.
Blaze
On The Watch "Its All About Erislandy Lara vs Jarrett Hurd"