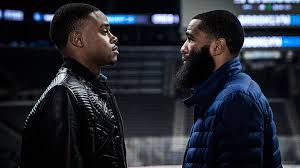 SHOWTIME CHAMPIONSHIP BOXING
IBF Welterweight Championship
Undefeated and newly appointed IBF Welterweight Title holder, Errol "The Truth" Spence Jr. (22-0, 19 Kos) will be making his first Title defense vs former Two-Division Champion Lamont Peterson (35-3-1, 17 Kos) on Saturday January 20, 2018 live on SHOWTIME at the Barclays Center in Brooklyn New York.
Peeps in the boxing community are already predicting the year 2018 will be Errol Spence's coming out party to the rest of the 147-pound Division. As it stands right now Errol is one of the most avoided fighters in the Division period. This young blood is ready, loaded and hungry to unify the Welterweight Division but the other champions aren't too keen to step up to the plate and answer that call.
The only gamer to do so, so far, is Lamont Peterson, a well-respected fighter with the heart and skills to go toe-to toe with just about anybody in the Division. Lamont has won titles at 140 and 147 pounds. He just recently renounced his own WBA 147-pound Belt to have a chance to challenge Errol. This Kat is no slouch in that squared circle. Lamont is a proven veteran who's been on that big stage before and handled himself pretty well so I'm personally expecting a competitive bout come January 20, 2018.
With that being said Errol Spence Jr. is "The Truth" REAL TALK! The Kat is nice with his hands and his body shots are legit. The Boy knows how to take kats out in that squared circle-hands down. Iron sharpens Iron and you can clearly see that his growth and development as a boxer have improved dramatically from bout to bout.
Spence is heavily touted as being that Dude to take over the Division but before all is said and done he needs to handle his business at hand in Lamont Peterson. Let's see who bodys who, come Saturday night January 20, 2018 at the Barclays.
Who you got?
Blaze
On The Watch "Its All About Errol Spence Jr. vs Lamont Peterson"