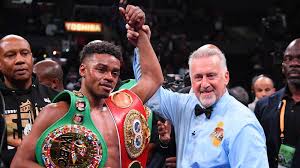 IBF/WBC Welterweight Title Unification
Last night's Welterweight Title Unification bout at the Staples Center in Los Angeles between IBF Champion Errol Spence Jr. (26-0, 21 Kos) and WBC Champion Shawn Porter (30-3-1, 17 Kos), lived up to the hype from start to finish. Real Talk!
Porter, the underdog, laid it all inside that squared circle. "Showtime" lived up to his name last night and to me, outperformed himself by bringing it straight up to Spence from round to round. Porter's "game plan" was clear from the jump to rough up Spence with constant pressure while keeping it awkward and standing strong by not letting Spence have his way with him inside that squared circle.
Spence was in a real dog fight last night and surprisingly was unable to command the bout in his usual aggressive fashion. However, the "Truth" stayed cool like his demeanour and weathered the storm by simply adapting to Porter's rugged tactics by fighting blow for blow and making his punch selections count whenever the openings presented themselves.
These two Champions showed up last night administering some serious heavy leather to one another and kept it real tight all throughout the rounds. To me neither one of them really had a clear-cut lead until the 11th round when Spence scored a decisive left hook "money shot" knockdown that may have sealed the deal for him to win on a spit-decision.
By the end of the twelfth round, two of the Judges had it scored 116-111 for Spence and one Judge had it 115-112 for Porter.
I tip my "B" hat to "Showtime" Shawn Porter" for bringing his all last night. He stepped up to the plate while other competitors are choosing to side step to the "Truth".
Congratulations Errol on becoming the New IBF/WBC Unified Welterweight Champion of the World. You walked it like you talked it and proved to be the "Man" to beat in the 147-pound Division.
Can't wait to see who signs up next to face you.
Blaze
On The Watch "Its All About Errol Spence Jr. vs Shawn Porter"