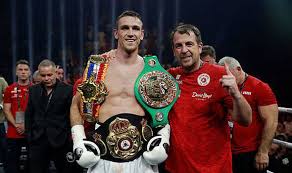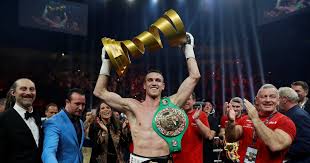 World Boxing Super Series (WBSS)
Tonight, in Jeddah, Saudi Arabia at King Abdulla Sport City Arena, the long-awaited World Boxing Super Series Super Middleweight Tournament came to an end in an impressive fashion.
The No. 1 Seed in the Tournament George Groves WBA Super World Super Middleweight Champion (28-4, 20 Kos) succumbed to the gloves of the No 2 Seeded Callum Smith WBC Super Middleweight Diamond Champion (25-0, 18 Kos). The underdog in the betting circuit silenced all naysayers and non-believers on the biggest stage of his career.
Tonight, Callum's approach vs George were executed perfectly. He fought a smart, technical fight all while using his height and range to his advantage. George fought well with some aggression but had a hard time figuring Callum out. Heavy blows were thrown from both combatants, at times with some very good exchanges but to my surprise Callum's punches looked to sting just a little more than what Groves expected. Callum seemed relaxed and poised round by round unlike George who looked uncomfortable and desperate at times. By the seventh round, George got complacent and lost focus and got caught with a heavy left hand followed by a burst of punches that sent him down for the count.
It was a beautiful display by an underdog in Callum Smith who has now risen to the top and taken claim of the World Boxing Super Series Muhammad Ali Trophy, the WBA Super World Super Middleweight Championship, The Ring Magazine Belt and retained his WBC Diamond Super Middleweight Title.
With this trifecta of a night you have singlehandedly sky rocketed your position as the top "Dog" in the Super Middleweight Division. Real Talk!
Congratulations Champ for this historical achievement, you deserve it.
Blaze
On The Watch "Its All About George Groves vs Callum Smith"