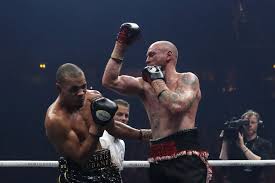 World Boxing Super Series (WBSS)
Tonight at the Manchester Arena in Manchester, England, George Groves (28-3, 20Kos) humbled Chris Eubank Jr. (26-2, 20Kos) by successfully defeating him for the IBO and Super WBA Super Middleweight titles.
This bout wasn't a pretty one but I have to tip my "B" hat to Groves for sticking to the game plan and neutralizing Eubank's high volume offence. There are levels to this boxing sh*t and Groves backed it up by proving to all the naysayers and myself that he's a notch above what Eubank possesses. The better man literally won tonight hands down.
I was confused and disappointed by Eubank's passive approach. He did not have the right game plan to stunt on Groves' tonight. Eubank talked a good game to the build up of the bout but simply got outclassed on that big stage come fight night. This was supposed to be a big bout for Eubank but tonight my man dropped the ball heavily. He let an extremely great opportunity slip through his hands.
Tonight's World Boxing Super Series Super Middleweight semifinals winner George Groves proved to the remaining competitors why he's the number one seed in the Muhammad Ali Tournament.
Congratulations Groves on your highly convincing win tonight, now on to the Finals.
Blaze
On The Watch "Its All About George Groves vs Chris Eubank Jr."