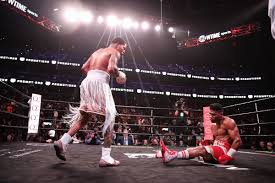 Vacant WBA "regular" Lightweight Title
Last night's Main Event Showdown at the State Farm Arena in Atlanta, Georgia between Gervonta "Tank" Davis (23-0, 22 Kos) and Yuriorkis Gamboa (30-3, 18 Kos) was a hell of show. Real Talk!
Gervonta, who usually walks through his opponents was met with a real tough warrior in Gamboa that wasn't going to lay down without a fight. Real Talk! Gamboa put up a hell of a fight but still got touch at will whenever "Tank" pressed the action.
Gamboa showed heart and bravery in withstanding all those power shots that Davis was hammering on him throughout the rounds. However, in doing so he also gave Davis his toughest fight to date.
As good as "Tank" was doing he was in a real fight last night and definitely had to work to get the job done. Gervonta knocked Gamboa down in round 2, 8 and again in round 12. It's in that final round that the referee decided to pull the plug after that last knockdown and stopped the fight.
It was a learning experience for Davis this go around. Fatigue settled in, he had to go 12 rounds for the first time in his professional career and this was his first fight at 135 Division. That being said "Tank" still weathered the heat and completed the task at hand with a knockout victory.
With this win Gervonta becomes a two-weight Division Champion by picking up the Vacant WBA "regular" Lightweight Title.
Congratulations Gervonta, now on to the new year 2020.
Blaze
On The Watch "Its All About Gervonta Davis vs Yuriorkis Gamboa"