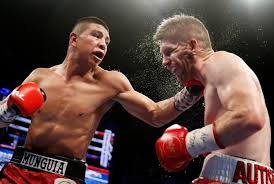 WBO Junior Middleweight Challenge
Last night at the Hard Rock Hotel & Casino in Las Vagas Nevada, Jaime Munguia (30-0, 25 Kos) had himself a successful first defense of his WBO Junior Middleweight Belt against a worthy opponent in Liam Smith (26-2-1,14 Kos).
The young Champion had himself a live body in Liam who definitely didn't come into town to bow down. Liam tried his best and used his experience to try to amplify Munguia's lack of defense but found it quite challenging to neutralize Munguia's none stop aggressive offense in doing so.
The Kid Munguia was just too strong, bigger and much younger to be contained by Liam but real talk, Liam put up a hell of a fight even after being dropped in the six rounds. Liam showed a lot of heart to go along with his strong will to never backing down or giving up at no point in the fight.
Munguia punished Liam from round 2 to 12 to a unanimous decision but it wasn't an easy task. This was a good test of character for Munguia who hadn't gone 12 rounds before.
Munguia, 21 years old, is an impressive fighter. He's still fairly raw but unquestionably made a statement of his own last night. Theirs a new "Kid" in the 154-pound Division ready to stir up the pot. However, I personally wouldn't go out and call out the other Champions in the Division just yet. Give yourself some time with a few more bouts under your belt. Your future is bright, pace yourself, and keep perfecting your skills cause you're undeniably a star in the making.
Congratulations on your win Champ.
Blaze
On The Watch "Its All About Jaime Munguia vs Liam Smith"