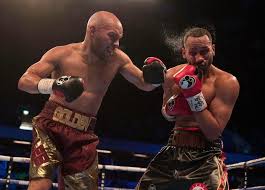 IBF Super Middleweight Championship
Wow!!! When cherry picking goes wrong??? Tonight at the Copper Box Arena in London, England, a battered and bruised DeGale (23-2-1, 14Kos) got his butt handed to him in front of his home crowd. REAL TALK! What was supposed to be a tune-up fight in his first fight back in 11 months after shoulder surgery, turned out to be a hell of a dogfight for James DeGale.
I think that DeGale and his team dropped the ball when they chose #15 IBF Caleb Truax (29-3-2, 18 Kos) as an assumed easy mark for his comeback fight.
Caleb studied the game plan on how to beat DeGale and executed it to a "T" tonight. Caleb's non-stop pressure and busy hands were troubling DeGale all night with no answer to his aggressive style. To me DaGale looked shaky and unsure in that squared circle. Caleb did a great job at cutting the ring off and controlling every round. I have to tip my "B" hat to Caleb for stepping up to the challenge at hand and outclassing James DeGale on his home soil by snatching the IBF Belt and becoming the New Super Middleweight Champion.
Tonight the odds were against you and you defied them all and came out on top.
Congratulations Champ on a win well deserved.
Blaze
On The Watch "Its All About James DeGale vs Caleb Truax"