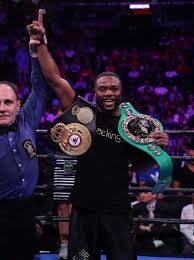 Interim WBA/WBC Light Heavyweight Challenge
In a tough and competitive bout last night at the State Farm Arena in Atlanta, Georgia, Jean Pascal (36-6-1, 20 Kos) retained his Interim WBA/WBC Belts with a tight split decision against Badou Jack (22-3-3, 13 Kos).
This bout was exciting from the jump. Pascal came out the gate and asserted himself real early with an aggressive style that bothered Jack. Pascal's power shots were coming in bunches and connected with a serious overhand right with some serious jabs that staggered and dropped Jack in the 4th round for a quick 8 count with only 10 seconds left in the round.
In the second half of the bout Jack started to work his way back and putting in some good work. The rounds were tight and very competitive. The action was none stop and carried all the way to  the final round where Jack connected with a hard right hand that dropped Pascal for a quick 8 count with lots of time left in the 12th round but Pascal showed grit and fired back enough shots to still stay competitive and finished the round strong and on his feet.
When it was all said and done two of the Judges scored it 114-112, 114-112 in favor of Pascal and 114-112 in favor of Jack.
With this win Jean Pascal retains his Interim WBA Light Heavyweight Title and WBC "silver" Light Heavyweight Title and finishes the year 2019 on a positive high.
Job well done Pascal, congratulations.
Blaze
On The Watch "Its All About Jean Pascal vs Badou Jack"