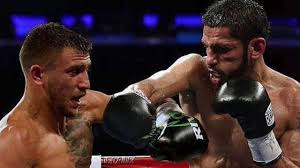 WBA Super World Lightweight Championship
Listen!!! Last night's fight between Jorge Linares (44-4, 27 Kos) vs Vasyl Lomachenko (11-1, 9 Kos) at the Madison Square Garden in New York city was amazing from the jump Real Talk!!
This Kat Lomachenko had himself a fight. Linares proved himself to be a worthy opponent but real talk Lomachenko is the truth inside that squared circle and last night Lomachenko came back from a knock down in the 6th round to knockdown Linares and stopped him in the 10th with a wicked body shot. Real Talk!
Lomachenko moved up to the 135-pound Division and showed the world what he was all about last night, he kept his patience and stayed focus and was the aggressor throughout the bout. I was impressed with this fight from both fighters; it was a very competitive bout from round to round.
Last night, Lomachenko defeated in my eyes his most worthy opponent to date, and in doing so he now becomes the WBO Super World Featherweight Champion and WBA Super World Lightweight Champion.
I have to tip my "B" hat to this Kat hands down! History has once again been written last night. A two–time Olympian gold medalist, in just his 12th professional bout, Lomachenko becomes the fastest Three-Division Champion to achieve this goal and secure his pound-for-pound claim in this here Boxing Game. Nuff said!
Congratulation Champ for another extraordinary performance, now who's next?
Blaze
On The Watch "Its All About Jorge Linares vs Vasyl Lomachenko"