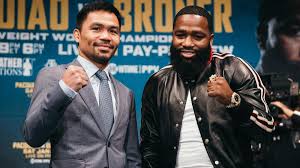 WBA Welterweight Challenge
It's official, the "living legend" Manny Pacquiao (60-7-2, 39 Kos) will be defending his WBA (regular) Welterweight Title against Adrien Broner (33-3-1 24 Kos) Saturday January 19, 2019 in Las Vegas at the MGM Grand Arena.
This bout right here has the potential of being a blockbuster if both combatants show up and perform to the best of their abilities come fight night. Real Talk!
Aside from the WBA belt being on the line there is a lot at stake here for both combatants. A win here for Pacquiao would silence his naysayers and prove to the boxing community that the "Pacman" still got it and still has more to add to his legacy.
As for AB a win against a living active legend like Paquiao would bring him right back up into the mix with the rest of the top Welterweights. This is the type of bout that AB needs to bring the best out of him. The big stage, the glitter, the lights and a convincing win could just be what he needs to get him back focus on his career 100%.
That being said, we can't front on Pacquiao. His last demolition of Lucas Matthysse four months ago showed us that "Pacman" still got the goods and the skills to hang with the best of them young or old. It will be up to Broner to show him a "Problem" that he can't solve inside that squared circle come Saturday night January 19, 2019, live on Showtime PPV in Las Vegas at the MGM Grand Arena.
Blaze
On The Watch "Its All About Manny Pacquiao vs Adrien Broner"