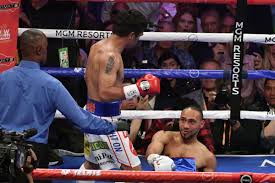 WBA Super Welterweight Champion
Once again Manny proved to his haters that age is just a number until he says so. Last night at the MGM Grand Arena in Las Vegas, Manny Pacquiao (62-7-2, 39 Kos) convincingly handed WBA Super World Welterweight Champion Keith Thurman (29-1, 22 Kos) his first professional defeat. Real Talk!
Manny and his "t-rex arms" caught "Mr. One Time" Keith Thurman nice and early with a right hook knock down in the first round. From that point on Manny controlled the tempo of the fight and continued to administer some heavy damage with those so called "t-rex arms". That being said Keith found out how quick and strong Manny really is first hand.
Keith did his thing though and didn't falter and fought a good one but didn't have the right "game plan" as the rounds wore on. Keith had no real answer for Manny's offense and found it painfully challenging to lay steady hands on Pacquiao. He did manage to land more punches, just not as effectively as Pacquiao's power punches and his steady "t-rex jab" that looked noticeably agonizing.
It didn't help that Keith got caught again with a mean body shot in the 10th round that had him running for dear life, but the warrior in Thurman wouldn't let him bow down without a fight. That being said this bout was very competitive and showed just how cutthroat the 147-pound division is.
After the 12 tough rounds, two of the Judges scored it 115-112 for Pacquiao and one Judge had it 114-113 for Thurman. No disrespect to Keith but I personally think that Manny clearly won this bout hands down unanimously.
That being said, this bout did live up to the hype. Manny showed up and performed just as he said he would. This 40-year-old man still got the "Juice" and now with the full WBA Super World Welterweight Championship Title in his possession, Manny is steadily climbing the top of the Welterweight Division once again.
Who's next?
Blaze
On The Watch "It's All About Manny Pacquiao vs Keith Thurman"