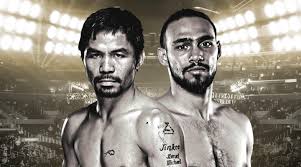 WBA Super Welterweight Showdown

Ask and you shall receive. It has officially been announced. WBA Super World Welterweight Champion Keith Thurman (29-0, 22 Kos) will have an opportunity and the privilege of sharing the squared circle with the Living Legend WBA "regular" Welterweight Champion Manny Pacquiao (61-7-2, 39 Kos) on Saturday night July 20th at the MGM Grand Arena in Las Vegas.
As it stands right now, Pacquiao is perceived as the underdog going into this bout, however, fresh off two back to back convincing wins, it's clear to me that the "Pac Man" still has what it takes to upset the odds. Aside from their 10 years difference in age, I think they both match up pretty well. Both carry speed and legitimate power and know how and when to use it.
Personally, I think some major factors to look at is going to be their conditioning, the ring generalship and their Boxing IQ come fight night. Pacquiao, being the veteran has 30 years of experience on his side. Manny has seen it all by this point and fought the best in the game. Unlike Keith who is younger, undefeated but has been hit with some serious injuries that has slowed down his activity and momentum to date that could play an issue in their bout.
That being said, if the "One Time" Keith Thurman shows up on Saturday night July 20th, then your Boy "Pac Man" will be in for his toughest fight since the Mayweather Jr. bout. Real Talk!
Manny is out to prove the naysayers that he still got the "juice" and that he can still box with the best of them in any era. Taking down the undefeated Champion Keith Thurman would prove just that, he's still the man to beat in the 147-pound Division.
I'm anticipating this bout to be action packed from start to finish. Keith been asking for crack at a "Legend" from time and now it's here. Keith cannot drop the ball on this one. In order for him to regain his No. 1 Spot in the Welterweight Division he needs to win "Big" and in a convincing manner.
Keith already started the heavy trash talking out the gate at the press conference but we all know that talk is cheap if you don't back it up 100 % come fight night. So, you know I'll be tuning in Saturday night July 20th on Fox Sport pay-per-view.
Blaze
On The Watch "Its All About Manny Pacquiao vs Keith Thurman"